Caribbean to Pacific Family Adventure
Duration: 12 days / 11 nights.
Locations: San Jose, Tortuguero, Arenal, Monteverde & Peninsula Nicoya.
Prices per family of 2 Adults and 2 children younger than 12y/o sharing 1 room starting at:
| | | | |
| --- | --- | --- | --- |
| | Price Range | With Transfer | With Rental Car |
| | Deluxe from: | US$6,550.00 | US$5,500.00 |
| | Luxury from: | US$14,150.00 | US$11,350.00 |
Important Notes:
Rental car with full Coverage from day 4th until departure.
Transportation in the affordable range is shared, Deluxe and Luxury will be private.
Luxury Option will include private charter flights where possible for the transfers option.
Tour will be shared except in the Luxury range that will include private tours. For Tortuguero all tour will be shared for all ranges.
Deluxe range uses 3 to 4 stars hotels and Luxury use the best accommodations at each destination.
This Trip Includes:
All transportation from arrival until departure via vans, boats, ferry local flights or rental car.

1 night in San Jose city with breakfast included.

2 nights in Tortuguero with meals included.

Tortuguero National Park boat tour.

2 nights in Arenal Volcano area with breakfast included.

Danaus Eco - Center Day Hike.

Cooking Class - Typical Dinner & Farm Tour.

2 nights in Monteverde with breakfast included.

Night hike at Monteverde Reserve.

Arial Tram and Hanging Bridges tour.

3 nights in the Nicoya Peninsula at a beach hotel (Affordable and Deluxe with breakfast included, Luxury without breakfast).

1 night in San José with breakfast included.

Sale taxes.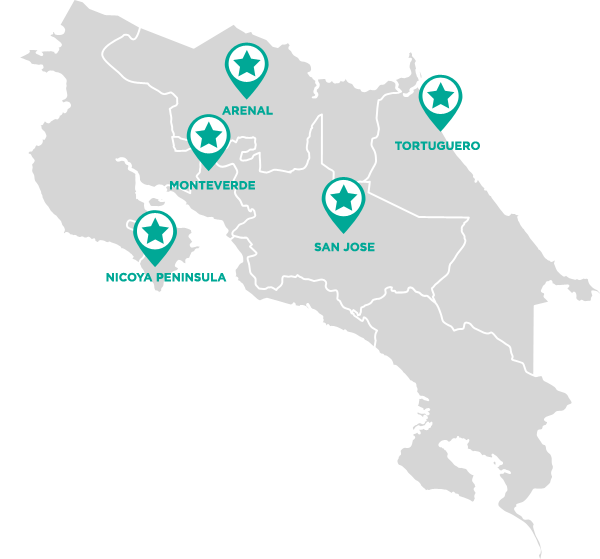 ---
DAY BY DAY
After your arrival at Juan Santamaria International Airport, our staff members will be waiting for you to take you to the hotel in San Jose.

A journey via flight (Luxury option) or land through Braulio Carrillo National park and boat ride on the canals will bring you to the jungle paradise of Tortuguero National Park. Sit back and relax on a guided boating adventure with beautiful scenery and wildlife sightings along Tortuguero's waterways before reaching your lodge.

Today you will have a boat tour in the national park and during the afternoon you will visit the small town of Tortuguero. One stop by the "Sea turtle museum" along the way, managed by the Sea Turtle Conservation.

A private flight (luxury option), local flight (Deluxe option) or scenic boat transfer and land transfer will bring you to the Arenal Volcano area.
For the rental car option you will be transfer by boat and van to the town of Guapiles, you will meet an agent from the rental car and will get your SUV there.
Once in Arenal, check into your hotel.

Morning visit Ecocentro Danaus a Biological Reserve that develop conservation programs, training environmental education, sustainable use of the land and production.
As the afternoon ends, enjoy a guided journey to Arenal Vida Campesina farm where you can appreciate traditional and non-traditional crops and gather for yourself the tubers, fruits, and vegetables that have been organically produced. Later on, at the restaurant La Guaria Morada become part of your Costa Rican typical cuisine classes. Learn how to prepare traditional recipes and share with a Costa Rican family rural, typical dances and enjoy a family dinner.

Cross the Arenal Lake on a pleasant boat ride with unique views of the volcano (weather permitting) and make your way up the to the world famous highland cloud forest of Monteverde for a cool respite at the cloud forest.
For the rental car options you will drive around the lake to Tilaran and then your way up on a dirt road to reach Monteverde.
Late afternoon Night walk tour. As the sun sets the forest comes alive with sounds. Use your flashlight to explore and look for insects, mammals and birds. The night tours are a fun way of learning about the nocturnal life of the forests.

Today we will visit the aerial tram and hanging bridges that allow us to see the forest from the canopy of the trees and enjoy a different perspective of the cloud forest.

After breakfast depart down the mountains to the Pacific lowlands. Once you get to highway 1 continue to the city of Puntarenas where you will take a ferry across the gulf of Nicoya. From there we will continue by land to your hotel.
For the rental car options, we will provide you with the ferry tickets.

Here you will have 2 full days at leisure to relax and enjoy the beach or plan any additional activity.

Transportation via ferry and van back to San Jose for the affordable option and the rental car options. For the Deluxe local flight from Tambor to San Jose and for Luxury Private charter flight. Upon arrival check in at your hotel.

Time to say goodbye to "Pura Vida "Costa Rica. Depending on your departure time, our drivers will pick you up at your hotel and take you to the airport.
For the rental car you must drive to the airport, return the car, and take the shuttle to the international terminal.
---
"We inspire the enjoyment, fulfillment, and personal discovery of our guests through responsibly designed and operated travel programs that provide meaningful experiences with the nature and people of Costa Rica"