Caribbean to Pacific Family Adventure
Duration: 12 days / 11 nights.
Locations: San Jose, Tortuguero, Arenal, Monteverde & Peninsula Nicoya.
Prices:
Affordable

from

US$5,200.00 per family

Deluxe

from

US$7,500.00 per family

Luxury

from

US$11,700.00 per family
*Prices per family of 2 adults + 2 Children younger than 12 y/o.
This Trip Includes:
Transportation from Juan Santamaria International Airport to the hotel in San Jose.
1 night in San Jose city with breakfast included.
Transfer via bus and boat to Tortuguero National Park.
2 nights in Tortuguero with meals included.
Tortuguero National Park boat tour.
Transportation from Tortuguero to Arenal Volcano.
2 nights in Arenal Volcano area with breakfast included.
Danaus Eco - Center Day Hike.
Cooking Class - Typical Dinner & Farm Tour.
Transfer boat lake-crossing to Monteverde.
2 nights in Monteverde with breakfast included.
Butterfly Garden & Frog Pond Tour.
Transportation from Monteverde to Nicoya Peninsula.
3 nights in the Nicoya Peninsula at a beach hotel (Affordable and Deluxe with breakfast included).
Transportation from Nicoya Peninsula to San José.
1 night in San José with breakfast included.
Transportation from hotel to Juan Santamaria International Airport, San Jose.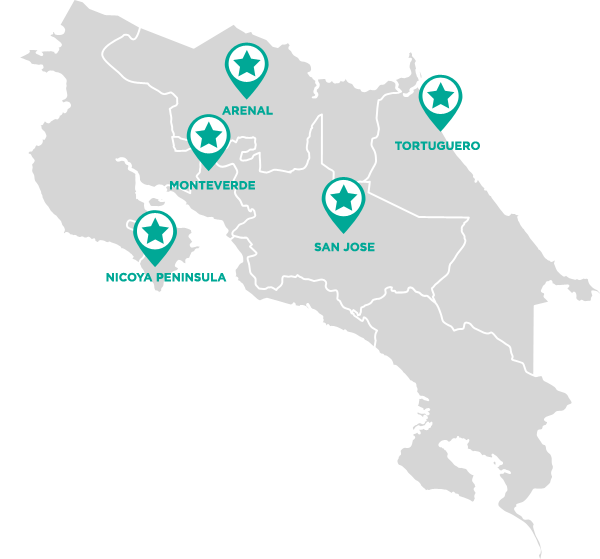 ---
DAY BY DAY
After your arrival at Juan Santamaria International Airport, San Jose, one of our staff members will escort you to the hotel in San Jose.

A journey by land through Braulio Carrillo National park will take you the Caribbean Lowlands. We will stop for a Costa Rican style breakfast. The journey will continue to the dock at either La Pavona in Guapiles or Caño Blanco in Siquirres Arrival to the pier and after a chance for restroom use, board a boat for your one hour ride to Tortuguero upon arrival check in at your hotel.

Today you will have a boat tour with your naturalist guide in the National Park, you will be able to discover the Flora & fauna from your seat on the boat.

A short flight (Deluxe & luxury option) or scenic boat transfer and drive will bring you to the Arenal Volcano area. Once there, check into your hotel.

Morning visit Ecocentro Danaus is a Biological Reserve that develop conservation programs, training environmental education, sustainable use of the land and production.. Danaus Ecocentro reproduced about 30 different species of butterflies.

As the afternoon ends, enjoy a guided journey to Arenal Vida Campesina farm where you can appreciate traditional and non-traditional crops and gather for yourself the tubers, fruits, and vegetables that have been organically produced.

A mandatory visit while in the farm is to go to the barn, mill and enjoy a delicious sugar cane juice squeezed by you in a handmade trapiche, as well as sugar cane pieces and without missing the shot of sugar cane liquor also (adults only). Later on, at the restaurant La Guaria Morada become part of your Costa Rican typical cuisine classes. Learn how to prepare traditional recipes and share with a Costa Rican family rural, typical dances and enjoy a family dinner.

Cross the Arenal Lake on a pleasant boat ride with unique views of the volcano (weather permitting) and make your way up the to the world famous highland cloud forest of Monteverde for a cool respite at the Cloud Forest Lodge.

Today we will visit the Butterfly Garden, an educational project created 17 years ago to teach visitors about the importance of conservation of the different species of insects and arachnids. Also, there is farming of about 40-50 species of butterflies and other variety of arthropods all year round. Later we will visit also the Frog Pond. The Monteverde Frog Pond has created terrariums where the natural habitat of each species is recreated, allowing the animals to live safely and at the same time enjoy the beautiful colors. After your guided tour through the terrariums that simulate natural niches you can walk quietly through the display of frog species and their natural history.

After breakfast one of our drivers will pick you up to depart down the mountains to the Pacific lowlands. Once you get to highway 1 continue to the city of Puntarenas where you will take a ferry across the gulf of Nicoya. From there we will continue by land to your hotel.

Here you will have 2 full days at leisure to relax and enjoy the beach or plan any additional activity.

Transportation via ferry and van back to San Jose for the affordable option. For the Deluxe and Luxury, a 30 minutes flight will get you back to the city. Upon arrival check in at your hotel.

Time to say good bye to Costa Rica. Depending on your international departure time one of our drivers will pick you up at your hotel to take you to the airport.
---
"We inspire the enjoyment, fulfillment, and personal discovery of our guests through responsibly designed and operated travel programs that provide meaningful experiences with the nature and people of Costa Rica"