< Back to blog
Whitewater Rafting in Costa Rica: Where Nature and Adrenaline Become One
hace 6 meses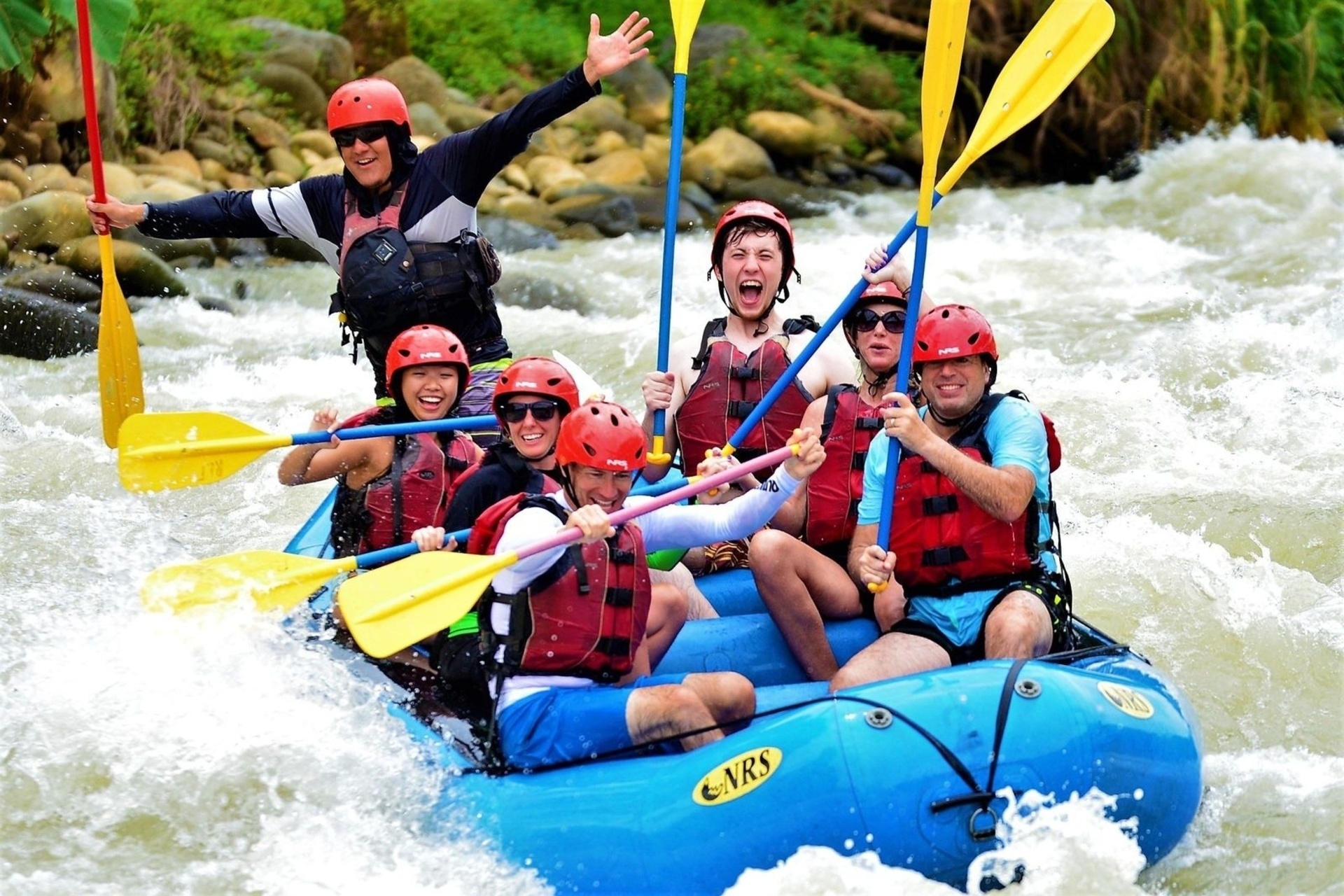 Costa Rica is a country blessed with a diverse amount of nature which we steward very carefully, have been able to take advantage of correctly, creating unforgettable memories for travelers who come to experience some of these exciting adventure activities in such a truly beautiful unique country on this planet.
Costa Rica is not only a magnet that attracts nature lovers who come looking for our incredible biodiversity, but it is also a great attraction for those who want to experience high-impact activities where adrenaline is the main dish.
Of these types of activities, we have a wide variety. From rappelling next to stunning waterfalls to diving into the incredible waters of Caño Island to observe the marine life found right off the coast in the area. In this blog, we are going to talk about the activity that is possibly one of the most exciting experiences in the country: whitewater rafting.
Whitewater rafting rivers in Costa Rica
Rivers in Costa Rica serve a wide number of functions; some are used by communities as a means of transportation while others are used for activities such as kayaking, electricity generation, fishing, or relaxation. However, today we will talk about four of the rivers that we at Horizontes recommend if you are looking for unique rafting experiences in the country.
Different Rapid types of difficulty
Before going into the description of the rivers, we will tell you about the difficulty scales for rafting. The rafting difficulty of a river is determined by a "class or category" that is given to each section of the river, according to the International Scale of the Degree of Difficulty of Rivers. This scale was developed by the AW (American Whitewater Society), a non-profit organization founded in 1954.
The rapid scales of difficulty are as follows:
Class I Rapids (easy):
These are fast-moving waters, with small or almost non-existent waves and rapids with few or no obstructions in the course. Every obstacle, if any, is easily recognizable, obvious, and easy to overcome.
Class II Rapids (beginner):
Rapids with wide, clear channels, which are predictable without having made an ocular inspection of the terrain before making the descent. Occasionally, during the descent, maneuvers will have to be made, and medium-sized rocks and waves are easily avoided by the guides.
Class III Rapids(intermediate):
In this class, the Rapids have moderate, irregular waves that can be difficult to avoid and will easily turn over the boat. Here, complex maneuvers are required in the rapids to avoid collisions in certain tight passages or with curves or plateaus. There are large waves, but they are easily avoided. They are characterized because there may be considerable eddies, especially in fast-flowing rivers.
Class IV Rapids (advanced):
They are intense and powerful, but predictable rapids, requiring precise boat handling. Depending in the characteristics of the river, there may be large, unavoidable waves and eddies or narrow passages with demanding evasive maneuvers, under pressure for the boat guides.
Class V Rapids(expert):
In this class, rapids are extremely large, obstructed, and very violent. Exposing the boat components to added risks. They are not predictable and have very large waves and complex, narrow, and demanding passages.
Class VI Rapids (Uncharted extreme rapids):
This type of riverbed has never or almost never been attempted. If it is decided to undertake a descent in a river of this class, it may have very serious consequences, and rescue may not be impossible.
It is always necessary to take these classes into account before deciding which rafting adventure you wish to take. This is so that you can have an amazing, unique, and safe experience that suits your level of experience.
Our top 4 Costa Rican Whitewater Rafting Rivers
Pacuare RiverWhite Water Rafting Class III - IV Pacuare River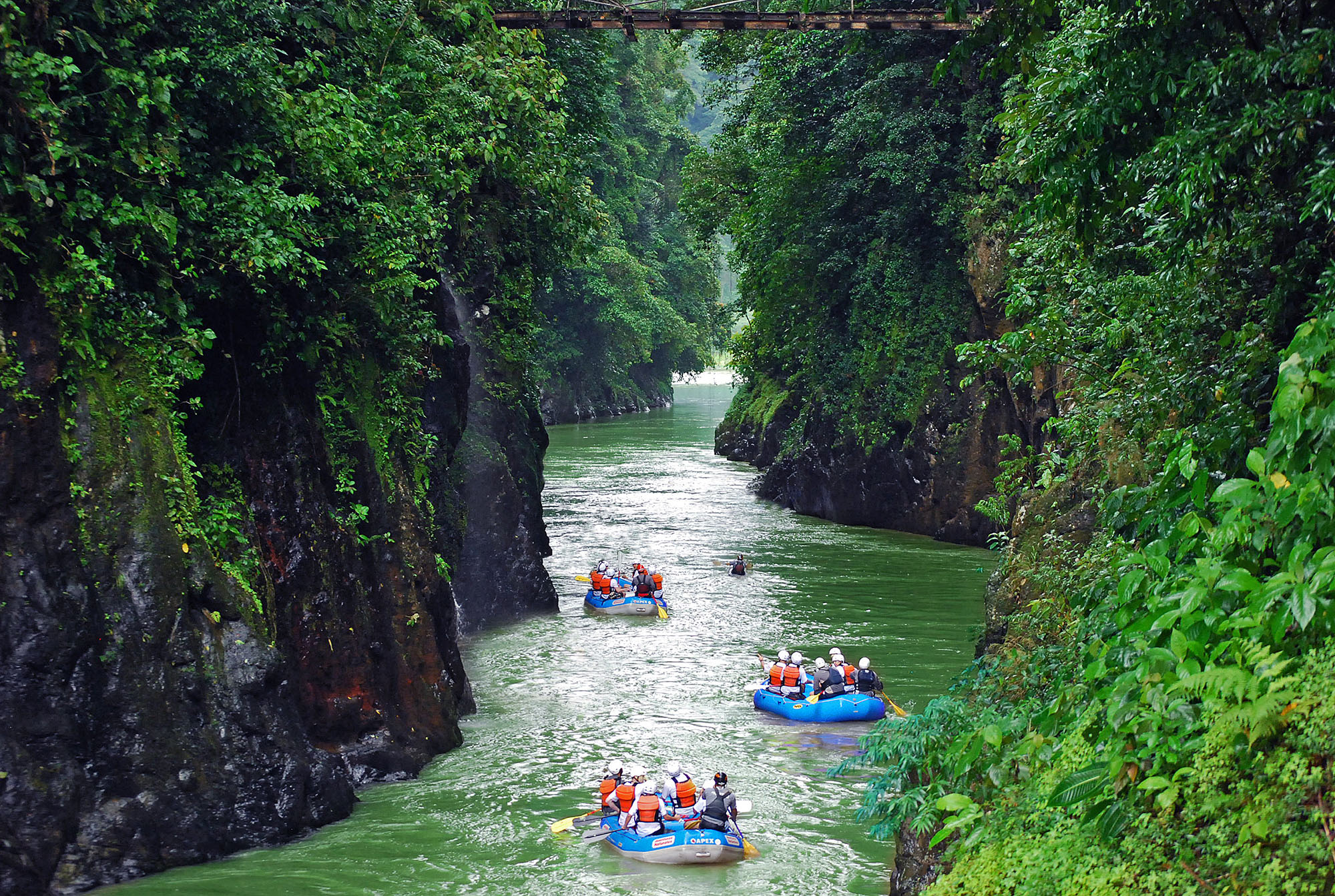 Located in the Talamanca Mountain range, and flowing into the Caribbean of the country, the rapids in the Pacuare River have been classified as some of the best in the world; this is an incredible adventure tour in Costa Rica.
On this river, you will raft through the beautiful rainforest on 19 miles of Class III-IV whitewater. Waterfalls, lush forests, exotic plants, birds, and intersperse exciting rapids, will make your day a tropical adventure full of rich experiences that you will remember forever.
Sarapiqui River Rafting Class II-III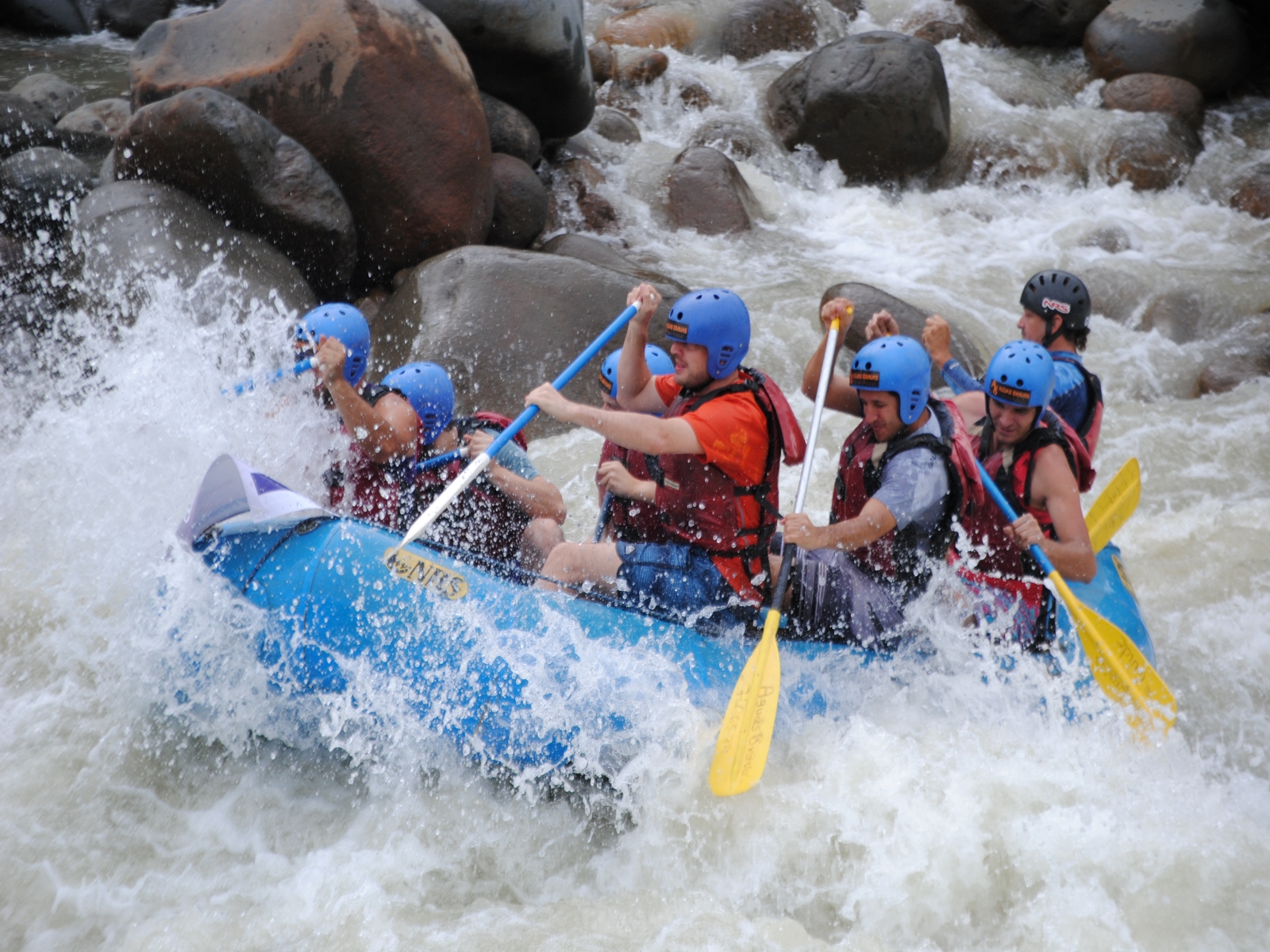 Born in Costa Rica's central mountain range and flowing into the San Juan River on the border with Nicaragua, this river offers category II/III rapids. On this river, you can enjoy an adventure full of adrenaline and excitement as well as more safety than on the Pascuare.
Savegre River Class II-III-IV White Water Rafting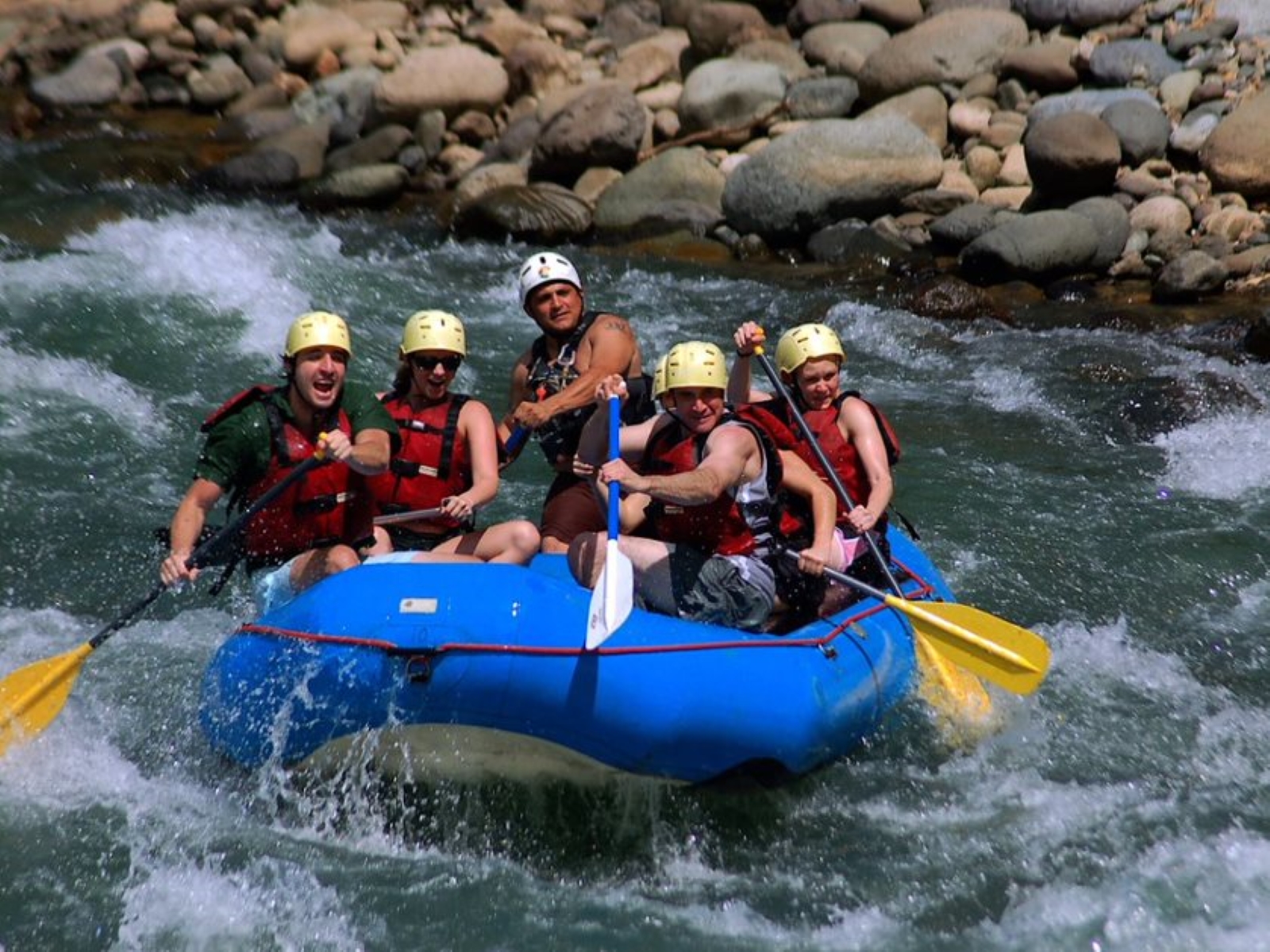 With its source in the mountainous forests of Talamanca and flowing into the Pacific, the Savegre River offers Class II, III, and IV rapids. Besides being an incredible river for rafting activities, it also has incredible landscapes. The Savegre River crosses through some of the most iconic places in the country such as Manuel Antonio National Park and Los Quetzales National Park.
In addition to all the above, the Savegre River was declared a Biosphere Reserve by UNESCO in 2007.
Rafting at Tenorio River Class V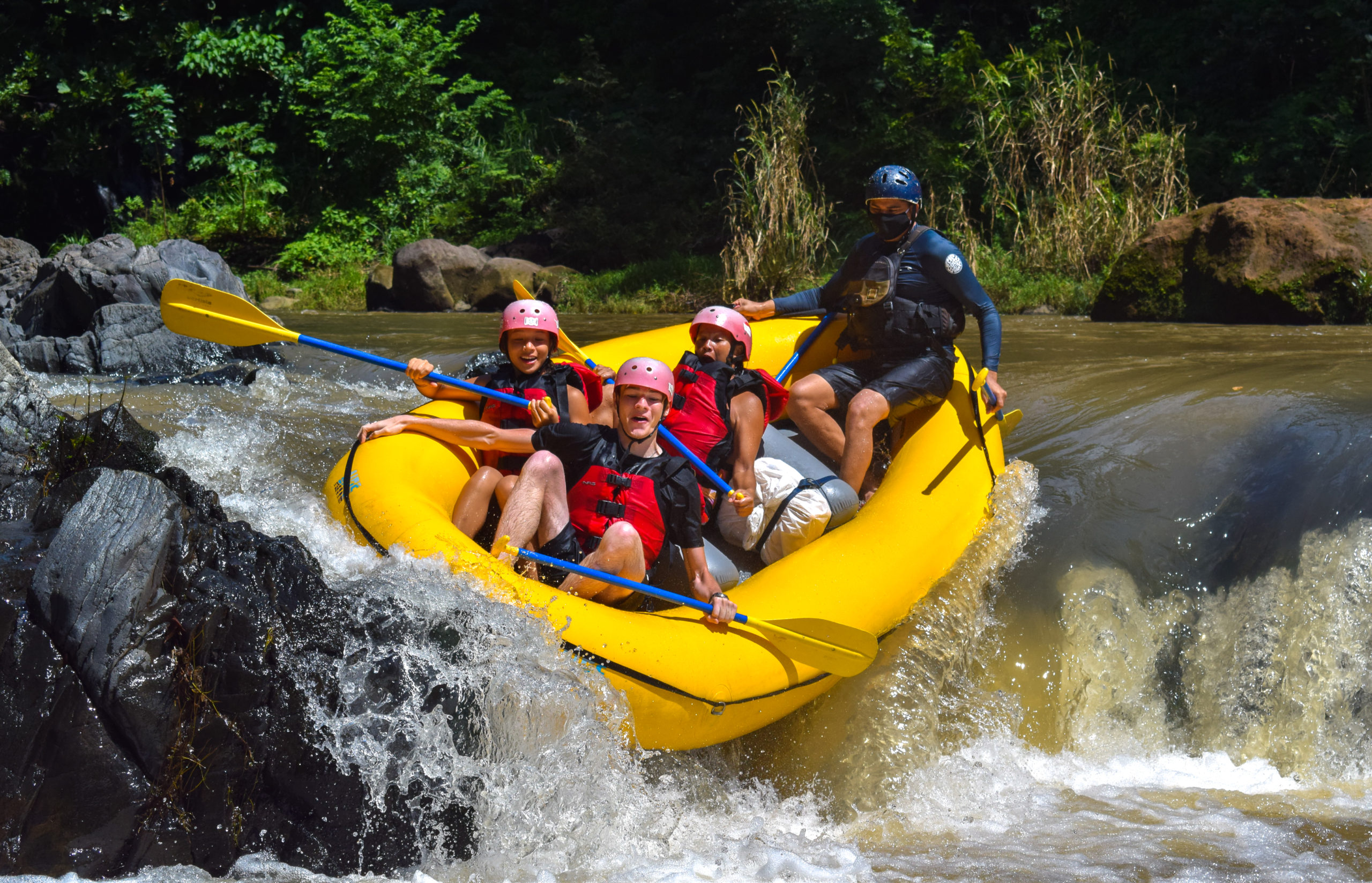 As its name says, this river takes its name due to its proximity to the incredible Tenorio Volcano located in the Costa Rican province of Guanacaste. The Tenorio River the most challenging on our list and will test your courage and challenge your skills in its waters. The trip begins where the dry and the rainforest mix their beauty, creating a magical place surrounded by lush vegetation, home to a huge variety of wildlife, where you can observe some migratory birds, butterflies, monkeys, and reptiles.
This river has 12 feet drop (class V rapids), which is unique in its class.
Having a safe and fun experience
A Good Eexperience for Eeveryone
Every rafting adventure is different. Just like at an amusement park, if you are traveling with your children or minors and wish to experience any of the tours, always ask what´s the minimum age requirement for your children or companions so you can choose the right rafting adventure more suitable for everyone. The minimum ages range from 8 years old to 12 years old depending on the river where you take the tour.
River Tubing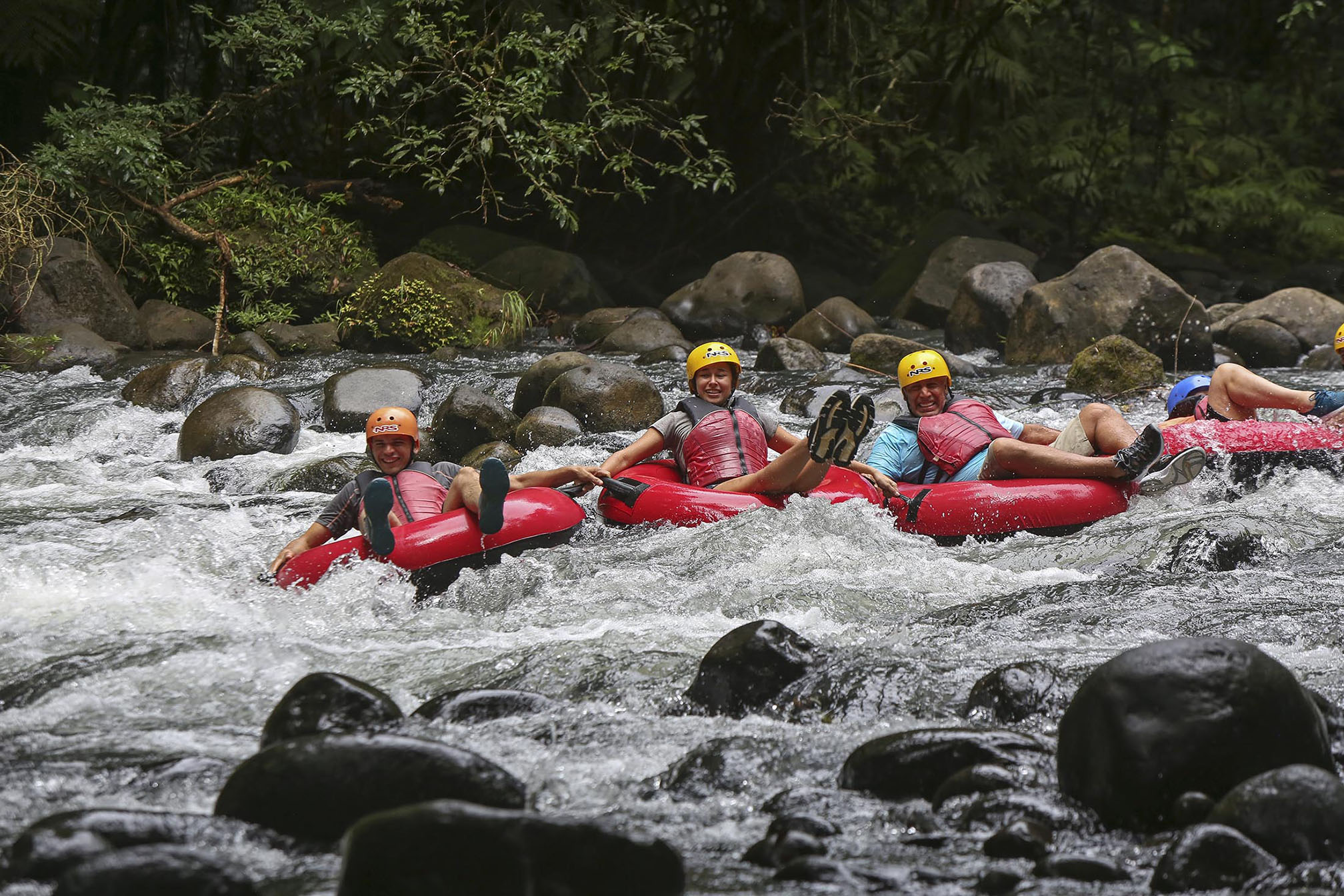 If you want to feel the thrill of rafting down the river, but without the 100% adrenaline factor, we recommend tubing. Here you will be able to travel the rivers at a slow and relaxed pace while riding a personal raft in the shape of a doughnut, you will be able to observe the beauty of the landscape and the charms of nature without all the paddling.
Rafting is an activity full of emotions and adrenaline. So, if you decide to experience this adventure, be sure to look for tours that meet the required standards so you can enjoy an exciting and safe adventure. And, if you wish, Horizontes can connect you with the best rafting tours in the country. Make sure that you will live a unique experience where you can feel safe while not losing that adrenaline rush.
THE BEST WAY TO PLAN
YOUR NEXT TRIP TO COSTA RICA
NO UPFRONT COSTS!