< Back to blog
Monteverde Costa Rica: 3 Must-Do Tours
hace un año
by Shannon Farley
From its misty evergreen cloud forest to its eclectic community founded by pacifist U.S. Quakers and local farmers, Monteverde is a favorite place to visit in Costa Rica.
It's an especially good place if you love the tropics, but not so much the sweltering heat you find along the coasts. Refreshingly cool "spring-like" weather is what's in store for you here.
Straddling the Continental Divide at 1,200 m (3,940 ft) to 1,750 m (5,740 ft), the high elevation rainforest becomes a cloud forest – one of the world's rarest types. Ethereal clouds and mist weave through breathtaking vegetation reminiscent of the dinosaur age. Equally exotic animal life – 100 kinds of mammals, 400 bird species, 1,200 reptiles, and amphibians – roam freely in protected forest reserves.
And even though the community depends on tourism, it doesn't feel overdone or too "touristy". It's a great destination for a family vacation in Costa Rica. There are plenty of things to do in Monteverde that fit for all ages, abilities and energy levels. Here are three Monteverde tours you must do while there.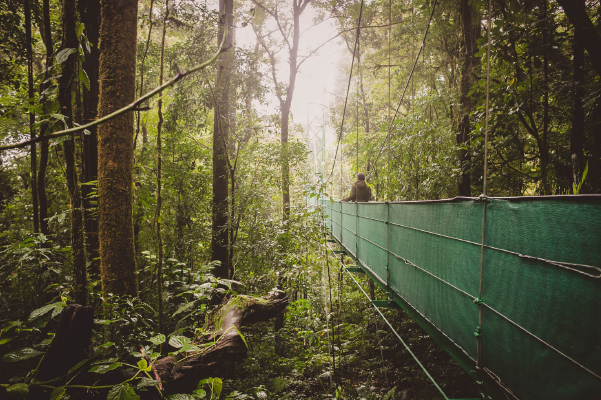 SKY ADVENTURES MONTEVERDE
Monteverde is known for its huge biodiversity and has been acclaimed as one of the most outstanding wildlife sanctuaries in the world. The forest's diverse life system will amaze you when you see it from the level of the treetops on the trails and hanging bridges of the Sky Walk, from the smoothly gliding gondolas of the Sky Tram, or the thrilling zip lines of Sky Trek. You can also accept the challenge to climb the giants of the cloud forest in their tree climbing park. Sky Adventures Monteverde tours are available for all ages and abilities.
MONTEVERDE BAT JUNGLE
It's nearly impossible not to fall in love with these often-misunderstood creatures of the night on the Monteverde Bat Jungle tour. This world-class exhibit designed to introduce visitors to the incredible world of bats is the culmination of 40 years of worldwide research by Dr. Richard LaVal, a well-known bat biologist and longtime member of the Monteverde community.
You'll learn about the diversity and abundance of bats and nearly every facet of a bat's existence – what they eat, how they fly, their use of echolocation, and bats' crucial role in controlling the insect population, regenerating tropical forest and pollinating flowers. Best of all, you'll see real bats living in a simulated nighttime cloud forest environment.
HIKING IN A CLOUD FOREST RESERVE
You can't visit Monteverde, Costa Rica without walking in one of the cloud forest reserves. Monteverde is home to 2.5% of the world's biodiversity. More than 10% of its flora is endemic, and half of Costa Rica's flora and fauna can be found in this paradise. The reserves are a wonderland for birding, where you can see exotic Resplendent Quetzals, Emerald Toucanets, trogons, and bellbirds. Not to mention the amazing array of bromeliads, orchids, and lichens.
Here, the sky literally comes down to the forest with fog and low-hanging clouds hovering around the upper tree canopy before condensing onto the leaves and dripping down to the plants below. Walking through this mysterious world is an unforgettable experience! We definitely recommend going with a guide so you can learn about the forest and see the wildlife that is often hidden to an untrained eye.
There are three main Monteverde cloud forest reserves: the Monteverde Cloud Forest Biological Preserve of the Tropical Science Center, the Santa Elena Cloud Forest Reserve and the Children's Eternal Rainforest.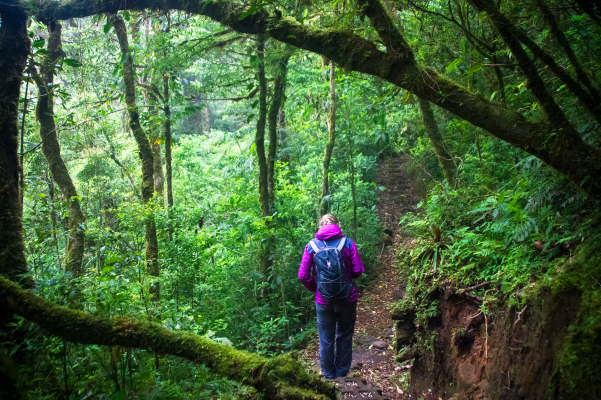 BOOK NOW!
Leave it to the experts to help plan the Costa Rica vacation that's right for you and go on your best vacation yet! Horizontes Nature Tours is a one-stop shop where you can arrange your entire Costa Rica trip in one place with local experts who know the country inside and out, at no additional cost. Get started by going to the free Trip Planner.
Once you work with a Costa Rica travel expert like Horizontes Nature Tours, you'll never want to plan another vacation on your own again!
THE BEST WAY TO PLAN
YOUR NEXT TRIP TO COSTA RICA
NO UPFRONT COSTS!