< Back to blog
When Wanderlust Calls, you never know where you might end up!
hace 2 años
by Shannon Farley
I never planned any of it.
I didn't sit down with a map, pointing to specific places, and say I want to live here and here and travel there and there.
It unfolded on its own. Each new chapter of wandering the world like a gypsy coming into focus as it developed.
Thus, it happened that I found myself living in the frozen, fairytale city of St. Petersburg, Russia, and then meandering into the steamy jungles of Costa Rica and lingering.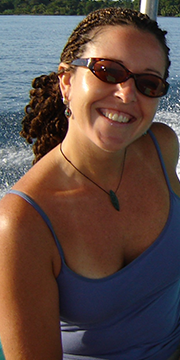 1 From 2005 was when I was a manager at Playa Nicuesa Rainforest Lodge.
I never planned to stay long. I was simply loving living life. Trying on new careers like changing sun hats. Collecting experiences like one might pick up souvenirs. I always expected to return home to the sun-soaked seashore of Ventura, California, with its chilly ocean full of dolphins and seals and wetsuit-clad surfers.
Twenty years later, here I am. Rooted in Costa Rica. A surprise even to myself.
My wanderlust could be the fault of my parents. I was only five when I flew on my first airplane across the country, coast to coast, to New York to visit my father's family in Albany. Or, looking back only a few more generations, wanderlust lured relatives from both sides of my family onto transatlantic ocean liners from Italy and Ireland to Ellis Island and new lives in the States.
What is certain: wanderlust led a shy girl into a life of traveling and adventure.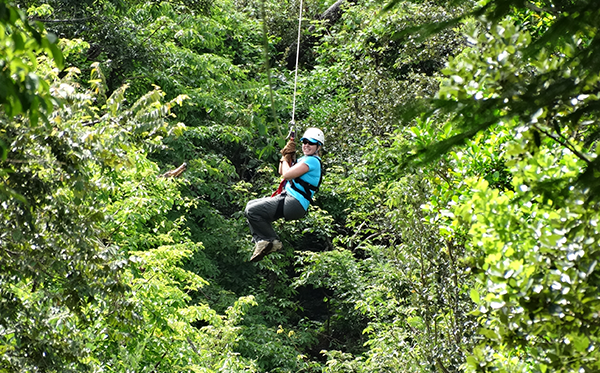 Canopy tour at Hacienda Guachipelín
My first career as a newspaper reporter opened the doors to an international life in St. Petersburg, where I moved in March 1992. The Soviet Union had just crumbled into chunks, and Russians were emerging out of Communist darkness into the kaleidoscope light of the world. Improvising as I went along, I worked as a journalist, helped a cousin open a youth hostel, directed a medical business, and became a travel agent. I especially took advantage of my location to explore other regions and countries.
By October 1998, I had tired of the long Russian winters, but still wanted an international life and was ready for someplace warm. I had an idea for a career change: combining teambuilding with adventure tours. And I had connections to the owner of a whitewater rafting company in Costa Rica. It sounded like fun – bright colors, vibrant Latin American culture, safe country, and best of all … tropical and sunny. I had studied Spanish in high school. How hard could it be to pick it up again?
I remember arriving in Costa Rica for the first time in early December 1998. I had left Russia only two months earlier, and the humid heat outside the airport drenched me in minutes. The tiny airport, that has since been remodeled and expanded many times over, was crowded and tumultuous. A driver met me and took me to my San Jose hotel.
Directions to my meeting the next morning with the rafting company were my first taste of the adventure of living in Costa Rica: from the Kentucky Fried Chicken on the Paseo Colon boulevard, go 300 meters west and 50 meters south. I've come to love how Costa Rican addresses are quirky, but at the time, the confusion of trying to understand directions like these underscored the enormity of the change I had undertaken.
After my two-week investigatory visit, I moved to Costa Rica in May 1999, ready for adventure.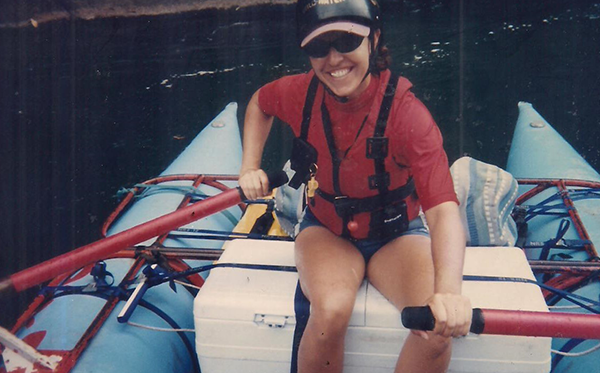 This is from 1999 when I was working as a raft guide with Rios Tropicales.
Over the years, I have donned many hats: tour guide, tour operator manager, hotel manager, wine sales, co-owner of a construction business, digital marketing, writing, editing and translating. Through it all I have loved traveling, experiencing new cultures, learning the nuances of other languages, and continually being inspired by people and places.
Costa Rica has beguiled and bedazzled me in an intense love affair. We broke up a few times, the country and I. Me running off to some other place for a short spell. Then, Costa Rica's patient siren song enchanting me back. Until, suddenly, eight years ago, our ardent affair became a marriage – with the country and my Costa Rican husband. Like a jungle vine encasing a tree completely so that they are indistinguishable, my life has melded with Costa Rica so that I am now rooted even further as a Costa Rican citizen.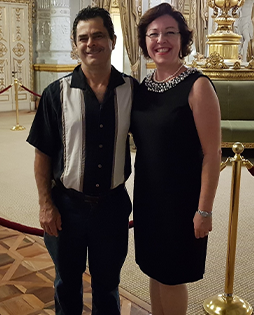 My husband Rolando Pérez Gonzalez and I at the Teatro Nacional in December 2018.
Looking back, it's a bit of a miracle all that has happened, and I am grateful to have lived so many rich experiences and to name friends all over the world. Since my current work is freelance writing, editing and translating, I have the freedom to be anywhere. Wanderlust still calls to me, enticing me to discover untrodden paths and unique corners of the globe. Since I am lucky enough to write for Horizontes Nature Tours in Costa Rica, which offers amazing journeys in extraordinary places, who knows where I may travel next!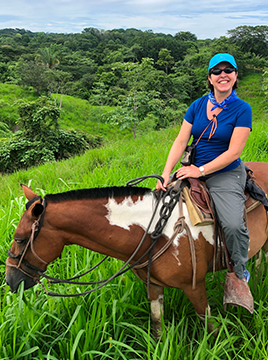 Horseback riding last year in Santa Teresa.
Shannon Farley lives in the pastoral town of Atenas, Costa Rica with her husband, Rolando, along with their five dogs and two cats.
THE BEST WAY TO PLAN
YOUR NEXT TRIP TO COSTA RICA
NO UPFRONT COSTS!