< Back to blog
Your Guide to Enjoying Costa Rica's Caribbean Summer
hace 2 años
Caribe Norte y Caribe Sur. All you need to know to enjoy the best of Costa Rica Caribbean summer season.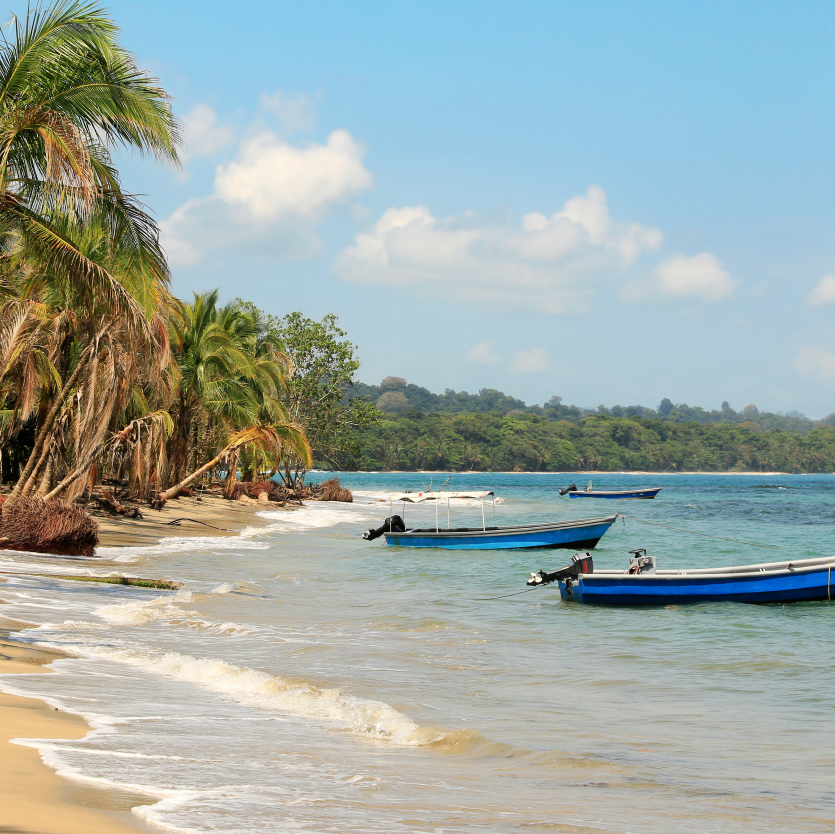 Your Guide to Enjoying Costa Rica's Caribbean Summer
By Shannon Farley
Most tourism information for Costa Rica notes that September and October are the rainiest months of the year. But did you know that these are actually the two sunniest months on Costa Rica's Caribbean coast? This time of year is Caribbean summer in Costa Rica.
On the narrow isthmus of lower Central America, Costa Rica is lucky enough to have two beautiful coastlines, the Pacific and the Caribbean, each with their own unique climate, culture and scenery.
The Caribbean coast couldn't be more different from the rest of Costa Rica. It's almost like going to another country. On the streets, you'll hear more creole patois, known as criollo limonense, spoken than Spanish. And reggae and calypso music in the cafes mix with spicy dishes of coconut rice and beans and a seafood gumbo known as rondón.
The distinct Afro-Caribbean influence here comes from Jamaican workers, descendants of African slaves, who were brought to the region in the mid-1800s to build the railroad from the central highlands to the port of Limon for coffee exportation. They stayed and later worked in the banana plantations of United Fruit Company.
The region, however, is an even bigger melting pot of traditions and cultures. There are the indigenous populations of Bribrí, Carib, Miskito and Cabécar, the descendants of Spanish conquistadors and settlers, North Americans who worked for United Fruit Company, and Chinese laborers who were also brought in to work on the railroad. Since this steamy jungle and coastline on the east side of the country was hard to reach until the highway between San Jose and Limón was finished in 1978, its distinct cultures were sheltered from outside influence.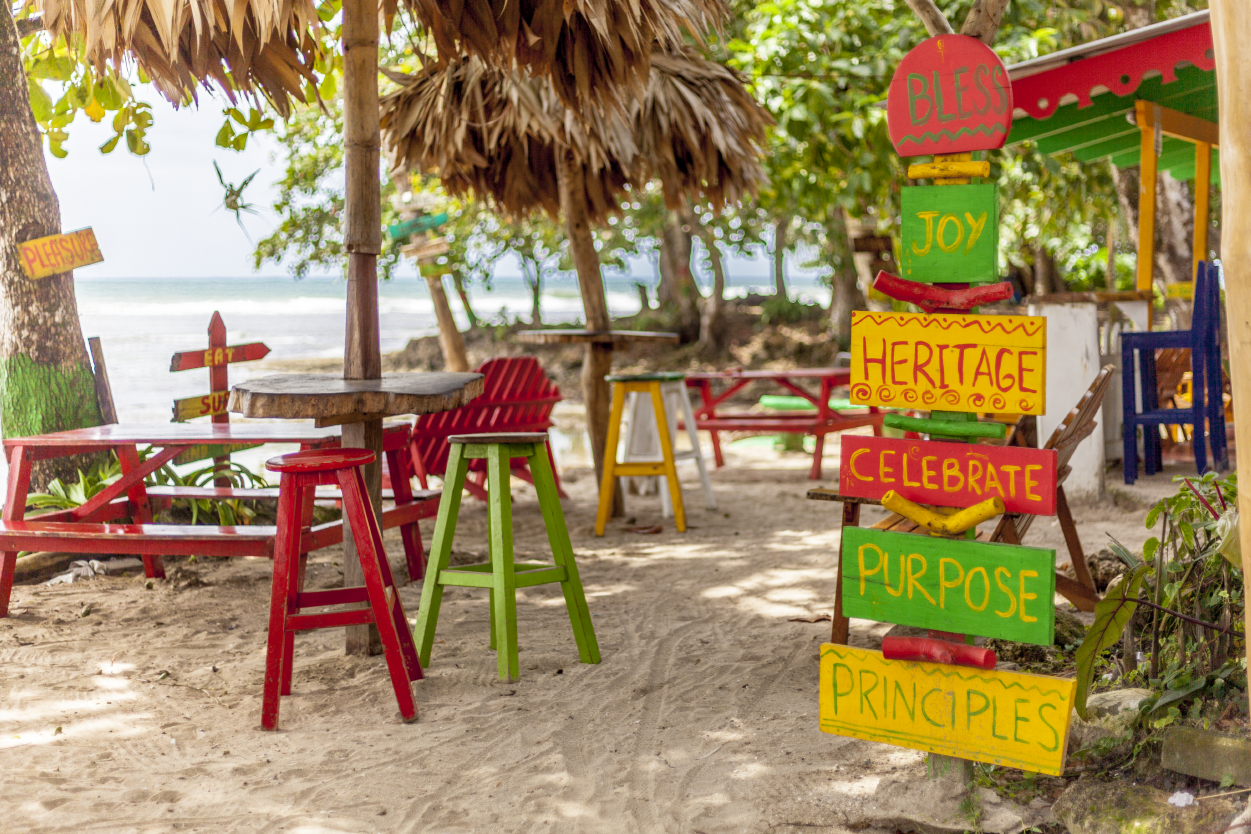 During Caribbean summer, in September and October, it's the best time to explore this beautiful region, enjoy its beaches, go snorkeling and sea kayaking, hike in national parks, watch sea turtles, lounge in a hammock, and dance the night away in a beach bar.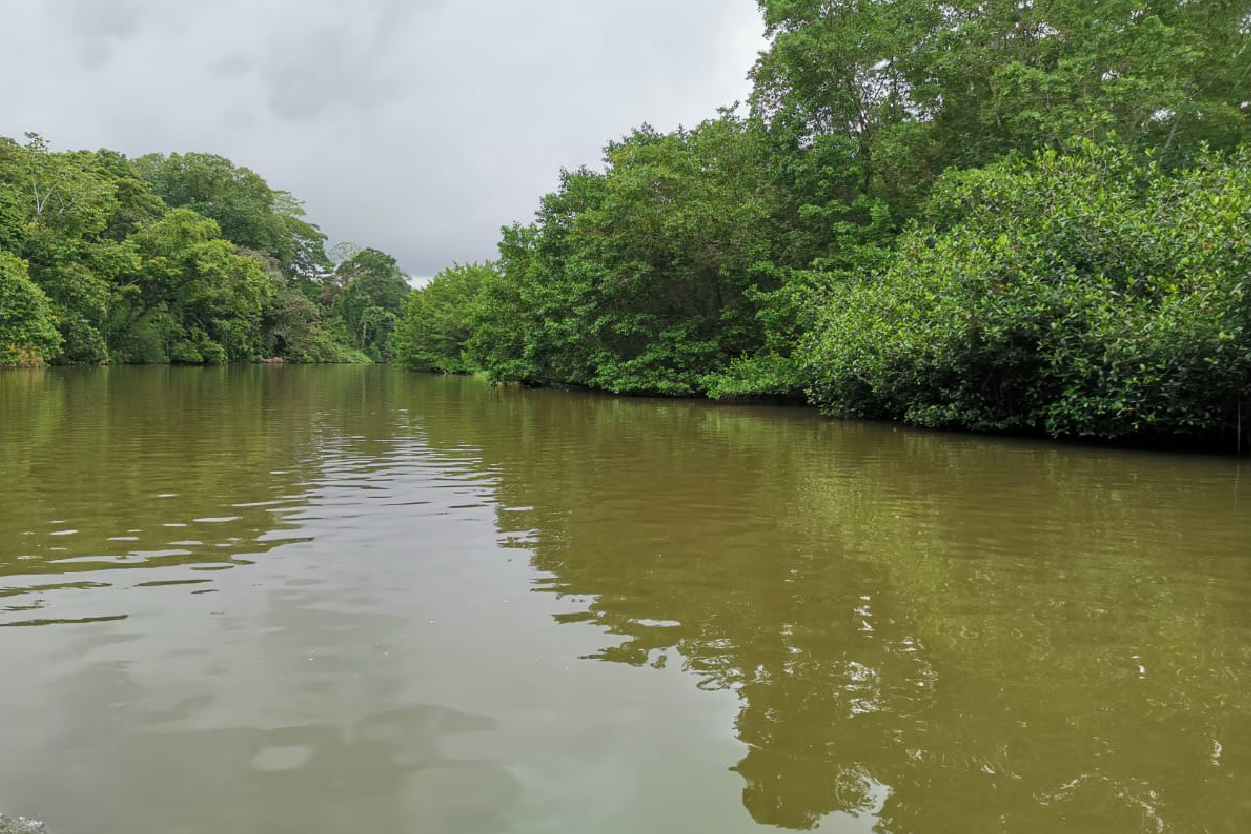 Exploring Costa Rica's Caribbean Coast
North Caribbean
There are two distinct areas along Costa Rica's Caribbean coast – the north and south.
In the north is the Tortuguero National Park, where four different species of sea turtle –green, loggerhead, leatherback and hawksbill – lay their eggs on the beach each year. Established in 1970, the national park is the western hemisphere's most important nesting site of the endangered green turtle. The turtle population came perilously close to extinction in the 1960s due to poaching for their meat and shells. The Caribbean Conservation Corporation, now known as the Sea Turtle Conservancy, put a stop to that after forming in 1959 to study and protect the sea turtles.
Between May and November, the various species come ashore to lay their eggs at night, and you can take tours to see this amazing sight. During the Caribbean summer it's also a good time to see the baby turtles hatch and return to the sea.
Behind the beach is a "little Amazon" of freshwater canals amid lush tropical forest that you can explore on a boat, kayak or canoe tour. Within this forest live some 57 species of amphibians, 111 different reptiles, over 400 kinds of birds, and 60 types of mammals including jaguars and endangered West Indian manatees.
Accessible only by boat or light plane, in Tortuguero there are dozens of ecolodges to choose from for accommodation. See Tortuguero vacation packages and nature trips.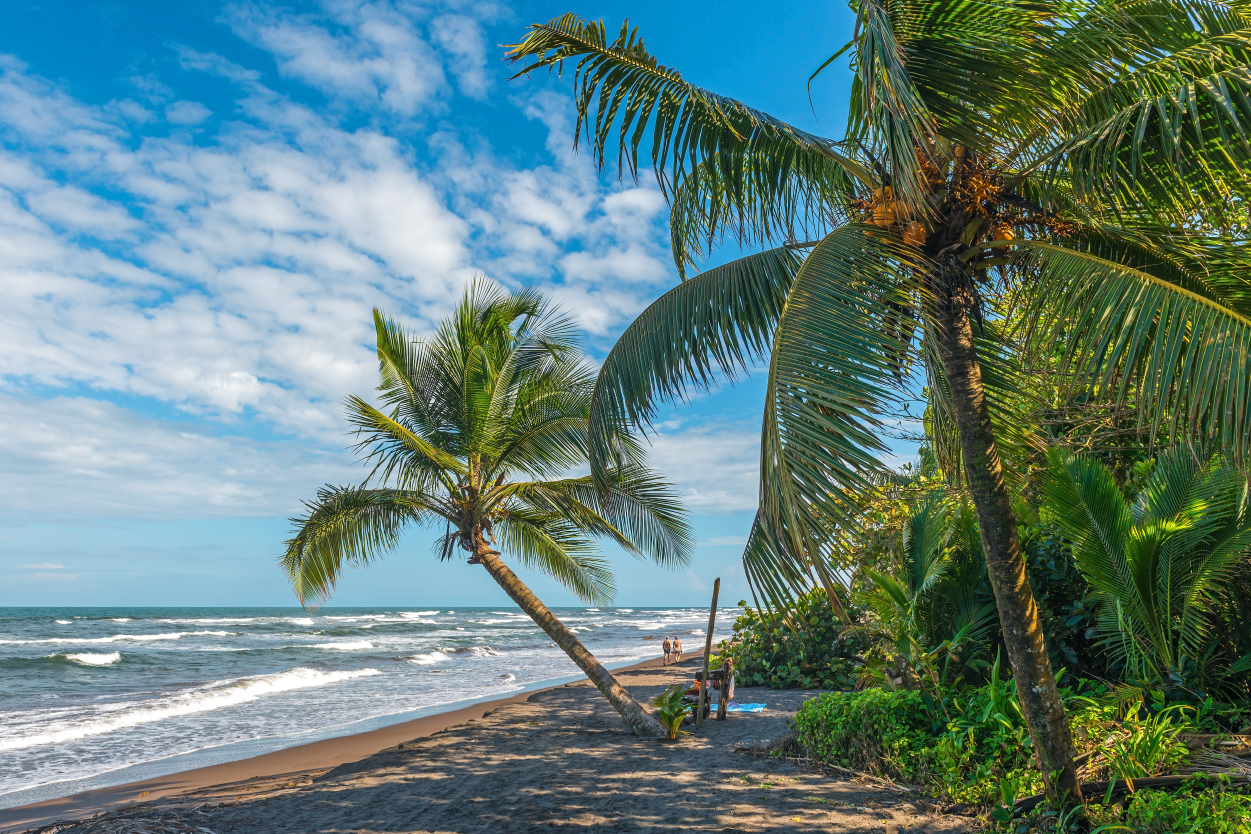 Limon
To the south of Tortuguero, in the middle of Costa Rica's Caribbean coast, is the regional capital of Limon. The busy port city goes all out for their October carnival every year to celebrate summer season. Spectacularly dressed dancers and musicians sashay through the streets, moving rhythmically to calypso, reggae and tropical beats in the many parades. And you can sample traditional Caribbean dishes like Rice and Beans, Pan Bon (fruitcake), Rondón (seafood gumbo), Pati (spicy meat pie), and a refreshing ginger lemonade called "Agua de sapo".
South Caribbean
The beaches south of Limón are a Caribbean dream. White and black sand, clear turquoise sea, swaying palm trees, and coral reefs just offshore teeming with colorful fish.
First up is the laid-back town of Cahuita, known for its brightly colored houses and national park. The Cahuita National Park protects one of the best coral reefs on Costa Rica's Caribbean coast, an underwater world filled with intricate coral formations and schools of vivid tropical fish. During these Caribbean summer months, the seas are calm and perfect for snorkeling in the crystal-clear water, kayaking and boat tours to see dolphins. The park also has excellent hiking trails through the lush, humid rainforest.
Next is the cosmopolitan surfer town of Puerto Viejo, with its unique boutique hotels, postcard-perfect beaches, and beach bars and bustling international restaurants. Under sunny skies, you can go for long beach walks, surf or take a surf lesson, or rent a bike and explore the little neighborhoods that stretch out along a meandering coastal road.
Even further south is the sleepy village of Manzanillo, almost on the border with Panama and home to the beautiful Gandoca-Manzanillo National Wildlife Refuge.
You won't find big resorts on the Caribbean coast. Instead, exquisite boutique hotels like the tastefully renovated Victorian-style cottages of Hotel Aguas Claras delight you in an ambience of tropical romance. And the small, five-star Le Cameleon Boutique Hotel offers upscale beach accommodations with modern designs and elegant tropical architecture. Or, there is the Cariblue Beach and Jungle Resort, known for its elaborate gardens that allow for excellent bird-watching.
Another of the best things to do in Costa Rica's southern Caribbean region is to learn about the native cacao production from the indigenous Bribri. Before the Europeans arrived in the Americas on the hunt for gold, the region's indigenous people used money that literally grew on trees – cacao beans. For them, this currency was worth as much as gold. On a chocolate tour, you will learn about the Bribri culture, history and way of life on their indigenous reserve as well as all the secrets of cacao production and chocolate making.


With its uncrowded sandy beaches, warm crystal-clear Caribbean Sea, coconut palm trees, and dramatic green jungle below an immense blue sky, it's easy to fall in love with Costa Rica's Caribbean coast during Caribbean summer.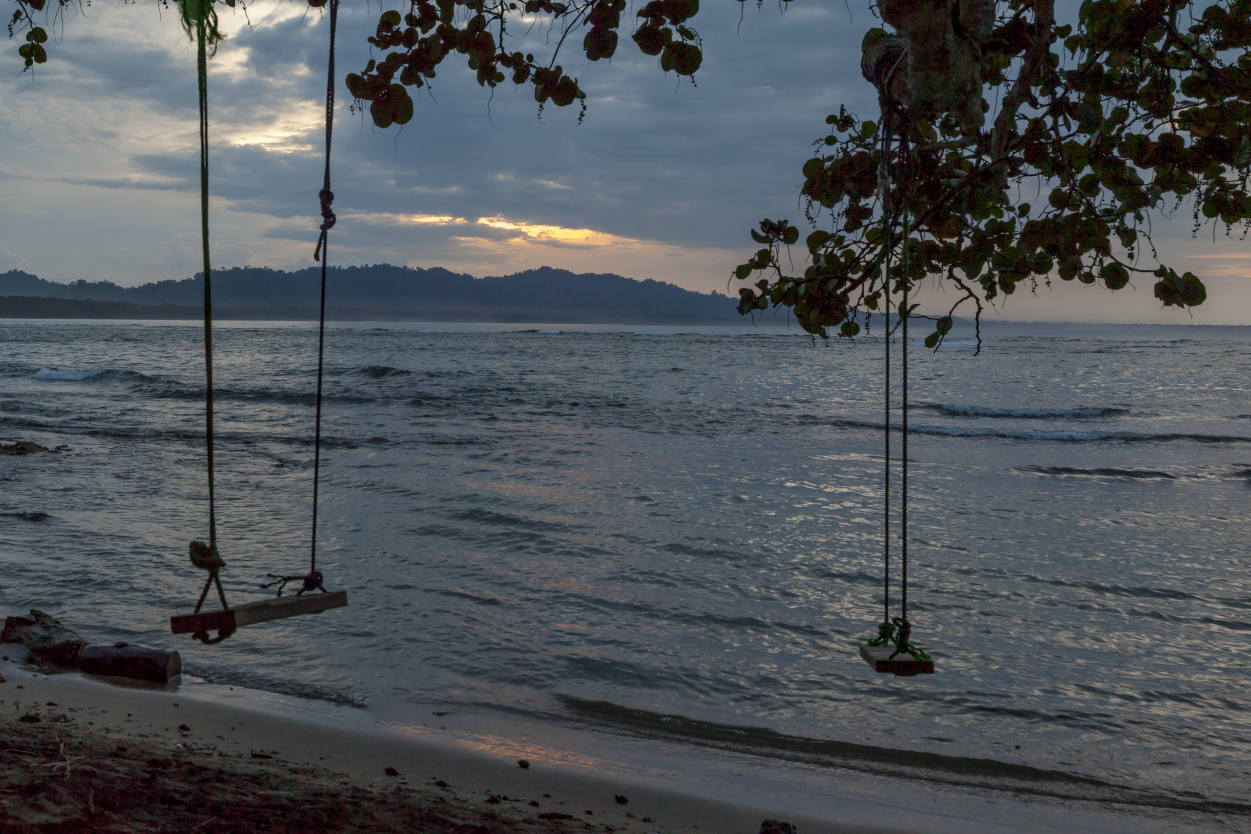 For travel planning and recommendations, contact Horizontes Nature Tours or fill out their free online Trip Planner.
THE BEST WAY TO PLAN
YOUR NEXT TRIP TO COSTA RICA
NO UPFRONT COSTS!